Hey, Ruidoso friends, let's make butterflies again to honor our loved ones and benefit the Lincoln County Food Bank!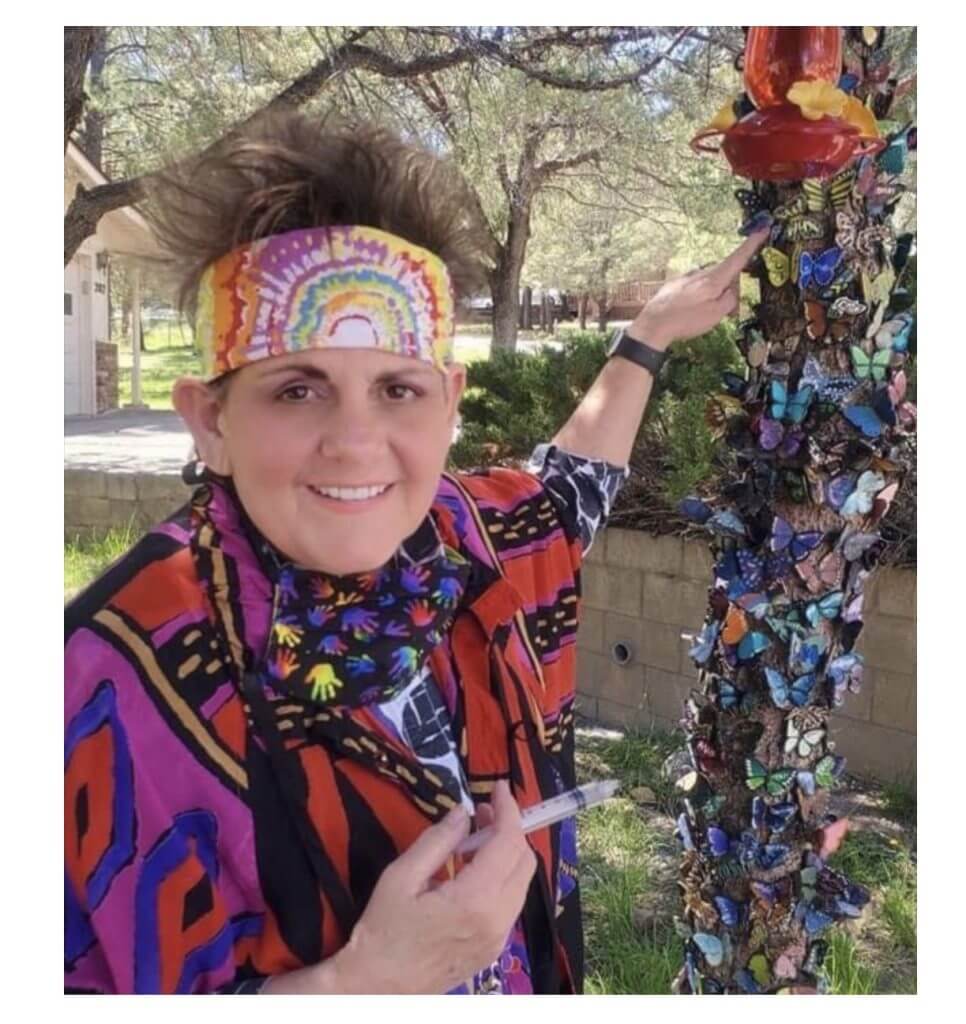 As the creator of the "Hello From Ruidoso" Peace Garden, I'm delighted to announce that I'm coming back to paint butterflies with you to honor once again those whom we love. In the Fall of 2021 this community collaboration art installation was relocated to Wingfield Park where it remains to be enjoyed by everyone.
Since my husband Kevin and I left the Village, many locals and visitors have continued to honor their loved ones by painting and installing butterflies, just as so many of us have done in the past. So we're coming back for one fun-filled weekend to celebrate our loved ones while raising money and awareness of the needs that are being requested of and met by the Lincoln County Food Bank.
Let's kick this off Thursday, August 11 from 6:00pm – 9:00pm with a Meet-and-Greet Happy Hour at Casa Blanca Restaurant and Bar, 501 Mechem Dr, Rudoso, (575) 257-2495.
Then, on Friday, August 12 from 4:00pm – 8:00pm, everyone's invited to meet me and my wonderful artist friends at a "Location To Be Announced" where you and any local artists can paint butterflies in honor or memory of your loved ones, too. Remember, pet's are loved ones, so we can honor them as well, right?
A finally, we'll enjoy time together on Saturday, August 13, from 9:00am – 1:00pm at the art installation located at Wingfield Park, for even more painting and the placement of your butterflies into the Peace Garden Tree.
This is a place of honor. It's a commemoration of the passage for your loved ones as well as a way to show the love you have for them. It is such a magnificent way to remember them.
Do you want to honor a loved one by purchasing a butterfly to paint so it can live in this garden? A donation of $15 per butterfly will benefit greatly the Lincoln County Food Bank. Did you know we still have pavers available to display your family name? The cost is $100 each and Jana will paint your message right on the patio floor. And remember, we're doing this to raise awareness to benefit the Lincoln County Food Bank, and to honor our loved ones on this first of its kind, always changing, community Art Installation.
Find matching merchandise at the retail shops on Sudderth Drive, HelloFromRuidoso.com, or at the event in August.
Contact Jana directly at JanaLynchArt@gmail.com if you have questions, or you would like to help me with this event. Or if you'd like to ask me to paint a butterfly for you before the event so it will be ready to be installed on Saturday the 13th at Wingfield. The cost is $30 for a custom design to match your loved one's interests, and that price includes jewels and glitter!
Read more about this art installation at: https://paintedartist.com/2022/02/a-bit-about-jana/